About the museum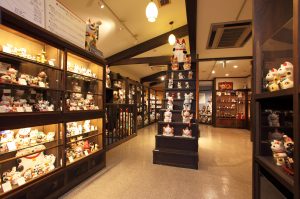 The maneki-neko, or 'beckoning cat' first appeared as a lucky charm during Japan's Edo era, approximately 150 years ago.
A raised right paw beckons money, while a raised left paw is said to beckon patronage to business. It may not be an exaggeration to say that the maneki-neko enjoys the status of a lucky god, beloved as a traditional Japanese item for well over a century.
The Maneki-neko Museum is located in Aichi Prefecture's Seto city, which became known as a production region for maneki-nekos since the Meiji era in the late 1800s. Seto was, in fact, the first ceramics region in Japan to produce maneki-neko figurines. The museum houses a collection of around 5,000 maneki-neko models from Seto and across Japan, and is a treasured spot for maneki-neko fans.
|Phone|
0561-21-0345
|Operating hours|
10:00~16:00
|Closed|
Tuesdays (open if public holiday)
|Admission|
Adult: 300 yen
High school/university student: 200 yen
Junior high school students and below: free
Painting workshop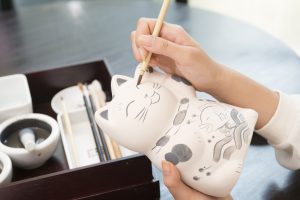 Try your hand at painting your own maneki-neko figurine.
Choose an item from dozens of different styles, including piggy banks to cat-shaped plates and coffee cups, and paint your own maneki-neko product like a true artist using 'zaffer' blue paint designed for ceramics.
Enjoy creating a one-of-a-kind maneki-neko item to bring you some good luck!
|Painting fee|
500yen~
|Receiving your painted item|
Please allow approximately one month for home delivery (separate mailing fees apply)
|Duration|
Between 30 min – 1 hour
|Reception hours|
Until 15:00
|Booking|
Not required
Groups of 10 or more who wish to participate in the painting workshop are asked to book by phone in advance. Please call for any enquiries.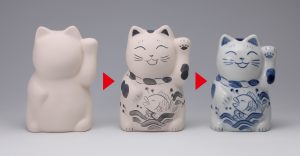 Access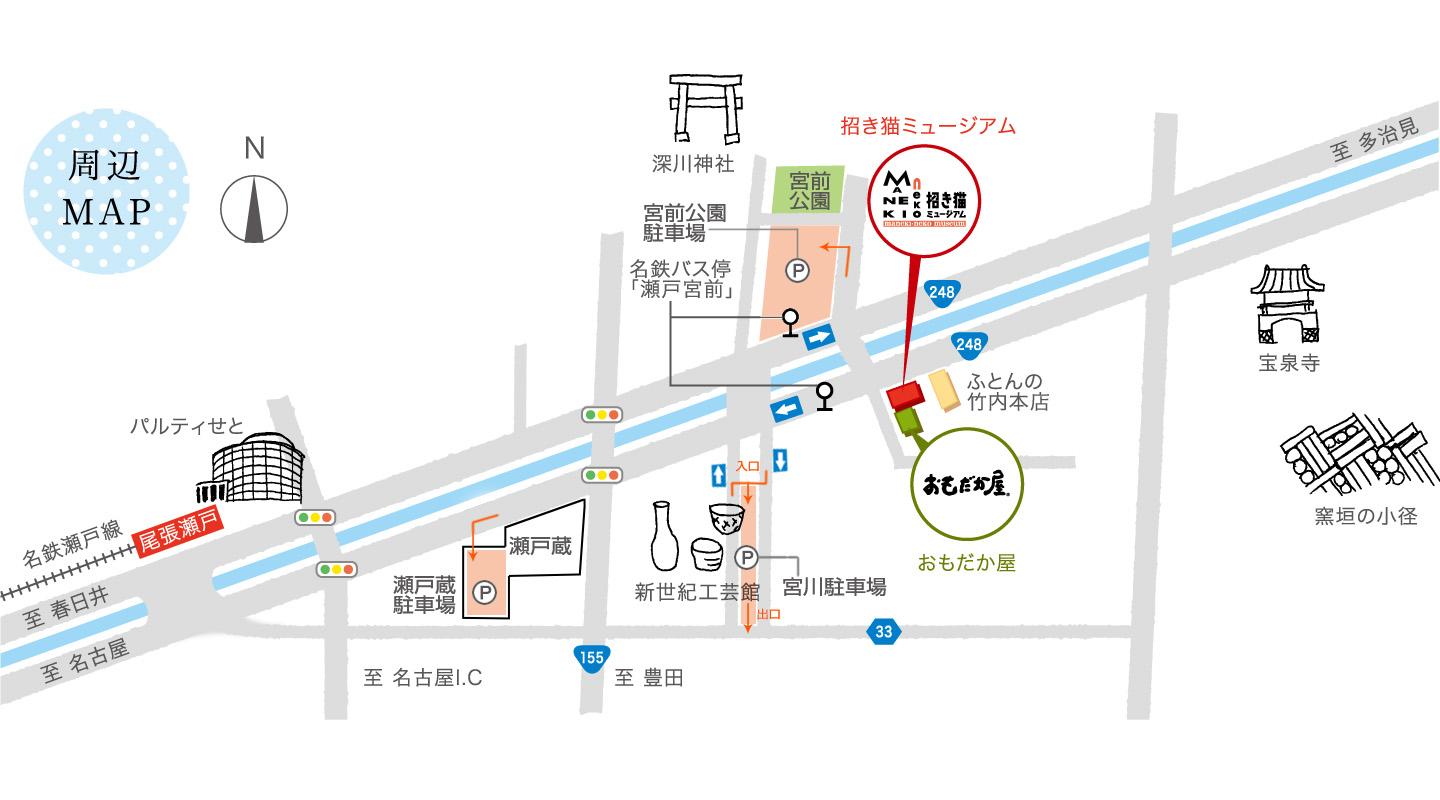 |Access by train|
From Nagoya Station
Take the Higashiyama subway line for Sakae, and transfer to the Meitetsu Seto line for Owari Seto Station (approx. 50 min)
From Sakae Station
Approximately 30 min. to Owari Seto Station on the Meitetsu Seto line
|Access by plane|
From Chubu Centrair International Airport
Take the special rapid service train to Kanayama Station, then transfer to the Meijo subway line for Sakae. At Sakae, transfer to the Meitetsu Seto line for Owari Seto Station (approx. 65 min)
|Access by car|
Approximately 5 min. from 'Seto Akazu interchange' on the Tokai-Kanjo expressway.
Approximately 20 min. from 'Nagakute interchange' on the Nagoya-Seto expressway.
Approximately 30 min. from 'Nagoya interchange' on the Tomei expressway.
Parking
Customer parking is available in the M-Park public carpark across from the museum (first 30 min. free).
Maneki-neko Museum official guide app
The Maneki-neko Museum app is a free guidance app that gives a curator's explanation of the works on display through text, images, and audio.
After downloading the app, please download the information on the artworks.
※Information can only be accessed within the Maneki-neko Museum.